The Power of Ten
"Refereeing" recently produced a referee hint/tip article The "Power of 10". It is produced below:
1. Pre-Match
Try to start on a positive by meeting with both teams
Check their kit colours in case of a possible clash
Do your homework to minimise any potential last minute problems
Keep your door open to show that you are approachable
2. Walking the Field of Play
Meet with the Groundsman
Inspect the pitch and check for foreign objects
look out for the away team and greet them on arrival
Check kits in the dressing rooms
3. Position in Dressing Room
Always be the first person players see
When receiving the team sheets, being in your kit or smartly dressed is appropriate
4. Pre-Match Brief to Assistant Referee
For offside, remind them to wait and see how play develops before signaling
Eye contact is an important communication tool
Reiterate what their roles are for free kicks, penalties and goal kicks
Remind them that they are your extra eyes and ears on the field
Keep your brief short and sharp – around 7 minutes is ideal
5. Warming Up
Warming up together and as a team is an important demonstration of teamwork
It should be done in the correct kit
It is also a perfect opportunity to watch the players to check for any warning signs – are there any possible disruptive players?
6. Positioning in Fluid Play
Sweep up behind play
Try not be in the centre circle on too many occasions
Try not to get too ahead of play, kept the ball between yourself and your assistant wherever possible
for goal kicks try to anticipate the drop some
7. Advantage
Signal first to recognise the infringement but then wait 2-3 seconds to see how play develops
consider the skill level of the players and how conditions may impact on effective use of advantage
How serious the tackle was should indicate whether or not advantage is played
8. Awareness
Try to recognise any players' persistent infringements
Your body language as well as your choice of works must remain appropriate to diffuse difficult situations
9. Attacking Free Kicks
Clearly pace out the defensive wall (or utilise markings where you can)
Take a moment to see which foot the player will strike the ball as this will determine where you stand
10. Post Match
It is important in that you don't engage with any discussion of incidents from the game
When liaising with the Assessor after the game be courteous, but don't be afraid to clarify any specific feedback from the game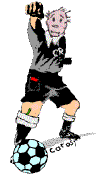 Furthermore, here are some useful "10 Point Plans" that you might like to consider so that you become and stay a successful referee, assistant referee or assessor.
Incidents in and around penalty area TABLE
Free kicks near the penalty area TABLE
Recognising Foul Challenges 1 TABLE
Recognising Foul Challenges 2 TABLE